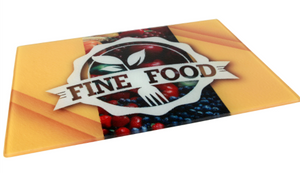 8x11
Heat press settings:
- temperature - 400 degrees F
- 3 minutes
- pressure - medium

Note: The recommended settings above may need adjustments for best results.
Settings will vary depending on the heat press brand and model ink and paper
and atmospheric conditions.

2nd Note: Print your transfer "right-reading" not mirrored. The transfer is
going onto the backside of the substrate.
Glass Cutting Boards
OMG. I ordered a couple glass cutting boards. First time ordering from KM...They arrived sooner than expected and they turned out beautiful. Going to place another order. Love them.