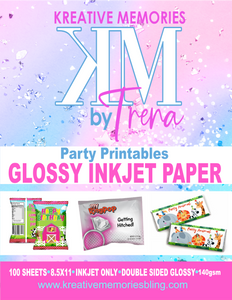 8.5x11 (Letter Size)

100 Sheets
Double Sided Glossy (print on either side)
Inkjet Printer Paper (TO BE USED WITH INKJET ONLY-NOT COMPATIBLE WITH LASER)
Print Paper Settings:Photo Glossy or Specialty Paper Glossy 
Quality: Best
140gsm
Best Paper Ever For Your Party Favors
Image comes out amazing. The weight of the paper is very manageable, not too heavy, not too light. No drying time needed. Print on either side no guessing, non smearing. Great price for 100 sheets, can't go wrong. Great for party favors. I love this paper. Team Glossy!
Great Paper
Best paper for personalized party favor.
Glossy gloss
This paper is awesome. You don't have to worry about which side to print on. Just upload and print. If you have tried the paper, you missing out!
Kreative Memories & Bling Glossy Inkjet Printer Paper
n not I have not used it yet. But soon I will. I want to say that I love the way it is packaged and can not wait to try it. And we can not forget about the customer service. The Owner was so nice on Tik Tok. Soon I will reviewing the paper.
Glossy Paper
Absolutely love the paper. The double sided glossy is a huge hit for me..