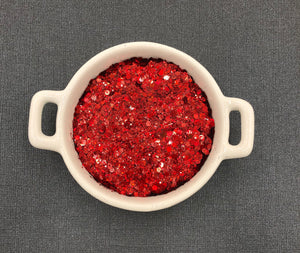 Chunky Mixes are perfect for A LOT of bling!
Maximum Impact to show off your work!
Chunky Mixes consist of shapes, fine, and ultra fine glitters in complementary colors.
High Quality Polyester & Solvent Resistant Glitter 
Weight: 2 oz 
Pro Tip: Use a toothpick to lay the larger shapes down for a sleek look after you add the mix to your favorite adhesive. 
Have an idea for a custom mix? Just use the contact us page and we can put it together
love it
this was perfect for my project
Amazing!
Love this RedCoat glitter!!!!